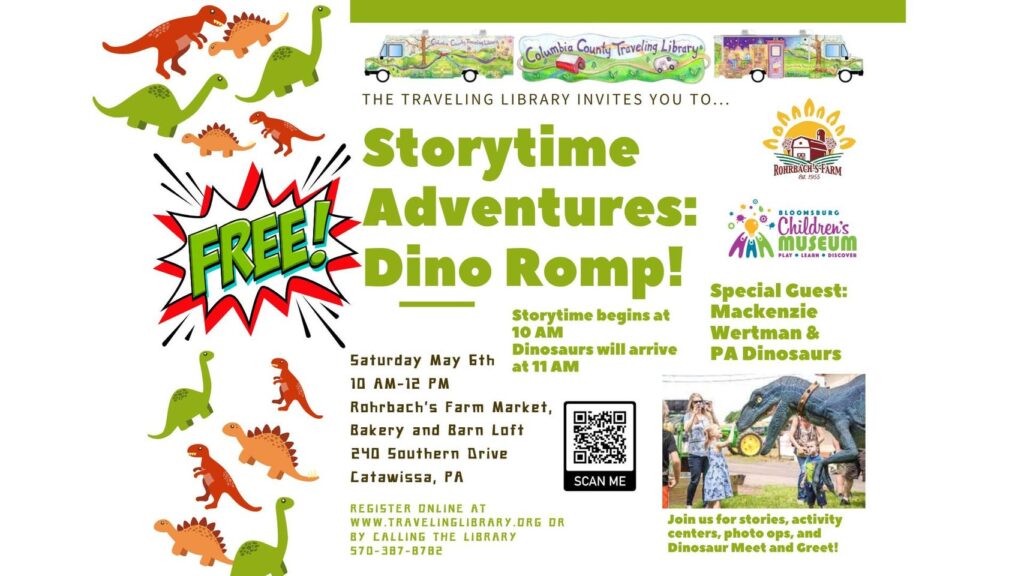 Catawissa Area Branch Library Open
The new Catawissa Area Branch Library is open as of March 1! It is still a work in progress, but you are welcome to visit and check out books. The approximately 2500 books that used to be in the Benton Area Branch Library are  now available in Catawissa. (The books in the Benton library were replaced with fresh ones from the Central Branch Library.) An additional 5000 books will be moved to Catawissa from the Central Branch Library throughout the month of March while we finish setting up furnishings and decor. Our 'grand opening' will be an all-day open house on Monday, April 3.
Catawissa Area Branch Library Hours
Monday: 12-5pm
Tuesday: Closed (Bookmobile in area)
Wednesday: 12-5pm
Thursday: 9am-2pm
Friday-Sunday: Closed
We hope to have teams of volunteers expand our hours with each team helping to cover a weekly shift to create flexibility to be off as needed.
If you can help move books in March or want to apply to serve as a long-term weekly volunteer on a team, please email volunteer@cctlibrary.org,
New Hours at Central Branch Library
Because of our limited budget, we will be open slightly fewer hours at the Central Branch Library on Sawmill Road now that the Catawissa Area Branch and the Benton Area Branch are available.
Central Branch Library Hours
(as of March 1)
Monday: 9am-6pm
Tuesday: 9am- 3pm (was 9-6)
Wednesday: 9am- 3pm
Thursday: 10am-1pm (was 9-3)
Friday: 10am-1pm
Saturday: 10am-1pm
Sunday: Closed
For those seeking evening hours, the Orangeville Public Library is just 4 miles away from the Central Branch and is open Mon-Thu 2-7pm. Any Traveling Library book can be picked up in Orangeville.
Spring Traveling Library Schedule Available
The March-May Traveling Library schedule of biweekly bookmobile stops is now available for download. Please click the 'Schedule & Hours' option on the menu of this website to view the PDF file. The Traveling Library schedule is not changing because of the new branch library.