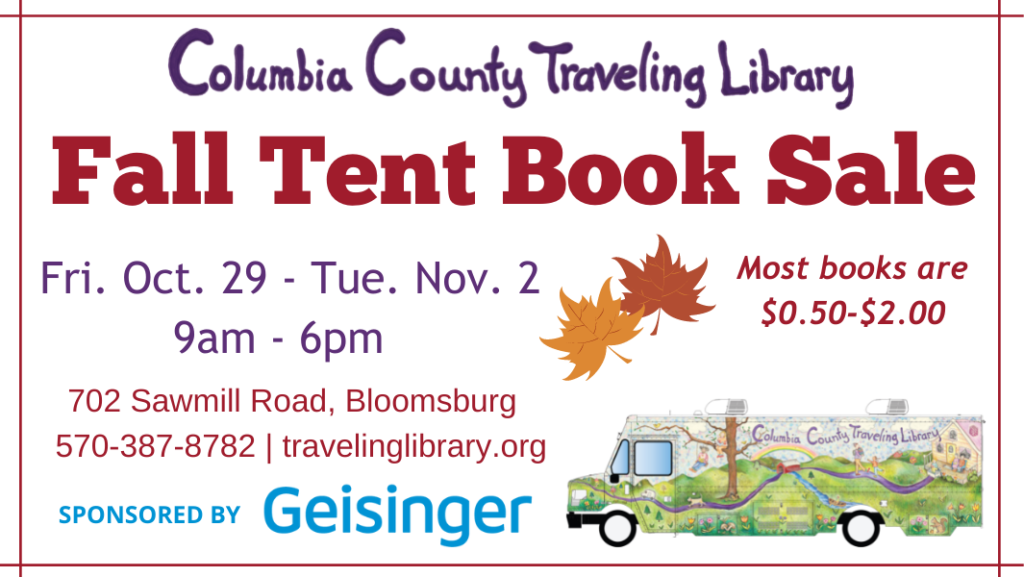 Fri. Oct. 29 – Tue. Nov. 2
9am – 6pm
Volunteers Needed! Please sign up to help. You can also email volunteer@cctlibrary.org or call 570-387-8782.
Spread the Word! Post the flyer or share the Facebook event.
About 10,000 gently used books for all ages — most are just $.50 – $2.00! Great holiday gifts. We will also have a table raffle with many great items.
Thrillers, romance, literary fiction, non-fiction, Christian fiction, children's books, westerns sci-fi, fantasy, and more. Some audiobooks and DVDs.
Cash, check, credit card, and Google/Samsung/Apple Pay accepted.
The sale will be held under large canopy tents in the lower parking lot near the County Library in the rear of the Columbia County Agriculture and Human Services Building at 702 Sawmill Rd, Bloomsburg — near Lightstreet and the I-80 interchange by Denny's. 
DIRECTIONS
Directions from Bloomsburg: Go out Lightstreet Rd. past Bloomsburg University and Denny's. After the I-80 Interchange, take a right at the first light onto Sawmill Rd. and go one mile.
Directions from Benton: Follow Route 487 South through Orangeville toward Bloomsburg. After the light at Short Stop Mini Mart, look for the next light and turn left onto Sawmill Rd and go one mile.
Directions from Mifflinville: Take Route 11 toward Bloomsburg. Soon after the Enterprise Rent-A-Car sign, make a right at the light on to Shaffer Road. Take Shaffer Road about 2 miles. Turn left onto Sawmill Rd. at the stop sign after you go under I-80 and go about a quarter mile and turn left at 702. Signs are posted at the last two turns.
WE ARE RIGHT OFF I-80: If coming from the east take Exit 236A for 487N and turn right at the next light in about 500ft. If coming from the West, go past the Buckhorn exit and take Exit 236 then turn right on 487N and turn right at the light just after the overpass.
For more information, email info@cctlibrary.org or call 570-387-8782.