SPECIAL RAFFLE!
Win a week in a luxury oceanfront condo at Myrtle Beach and support the Traveling Library in covering our year-end expenses. A $2000+ value for just a $50 ticket!
We are only selling 125 tickets so you have a good chance to win! As of Nov. 30, 39 of 125 tickets have sold. Scroll down for more details.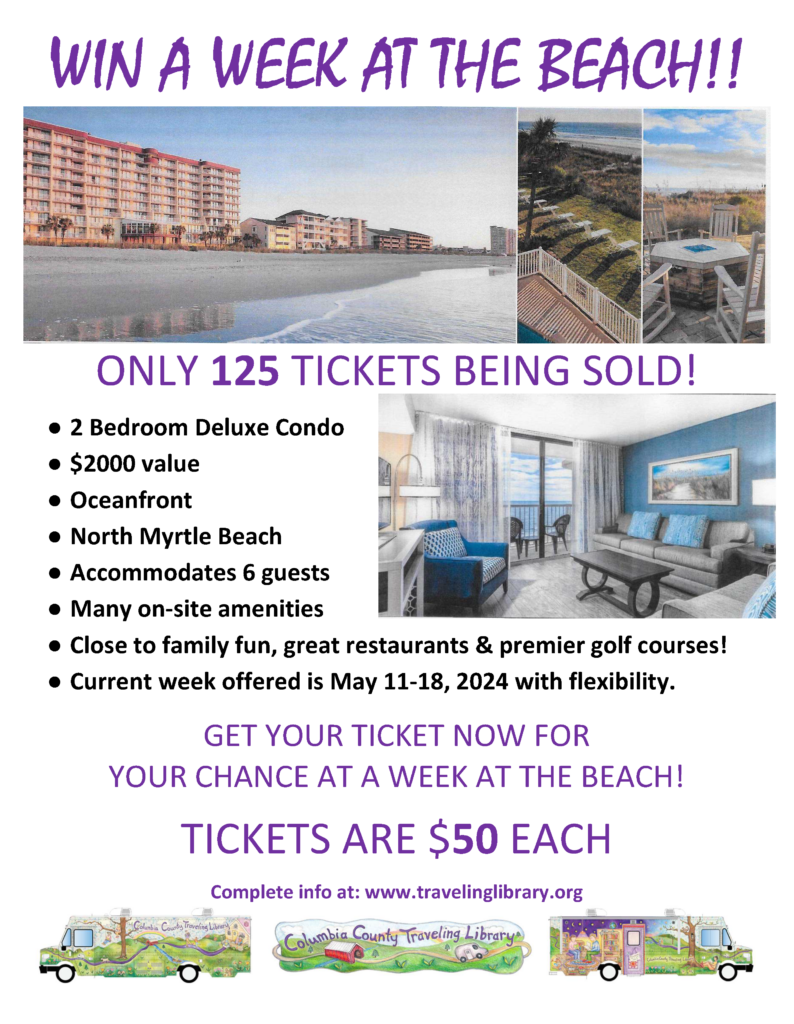 RAFFLE DETAILS
Thank you to Al and Elaine Luschas for donating this fabulous gift!
You can transfer this prize to someone else — this would make a great gift!
The dates scheduled are May 11-18, but can be rescheduled if needed.
Get your golfing buddies, extended family, or girlfriends to go in on the ticket!
The drawing will take place at noon on Fri. Dec. 22 at the Central Branch Library and online here at www.travelinglibrary.org.
You can pay for your tickets with cash or check at any library location or mail a check made out to 'Friends of the CCTL' to the library at 702 Sawmill Rd., Ste. 101, Bloomsburg, PA 17815. (If paying by mail, we recommend calling or emailing us to reserve your ticket.)
Email giving@cctlibrary.org if you want to make a personal arrangement with a trusted person in our community to pay via Venmo or PayPal. (We can't take credit card payments because of state law.)
Thanks for supporting the library!
UPCOMING YOUTH PROGRAMS! 
Visit our new Youth Services page for more information.