JOIN US TO PUT THE UNITY IN COMMUNITY THIS SUMMER AT THE TRAVELING LIBRARY!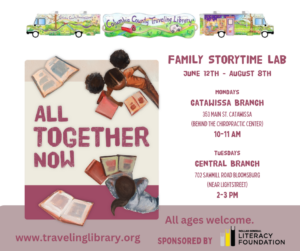 Join Ms. Amanda for stories, songs, and activities to explore the Collaborative Summer Learning Program theme "All Together Now." Each week, families will explore a new topic and have the opportunity to learn together in hands-on centers! All ages welcome.
The summer session of family storytime will be held Mondays at 10 in the Catawissa Branch Library and repeated on Tuesdays at 2 PM in the Central Branch Library. 
or by calling the library at 570-387-8782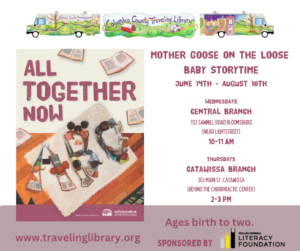 Mother Goose on the Loose (MGOL) is an Early Literacy Program created by Dr. Betsy Diamant-Cohen. This program aids speech development and motor coordination, develops attention span, and encourages a love of books and book illustration. For children, ages birth to two.
The summer session of MGOL will be held Wednesdays at 10 in the Central Branch Library and repeated on Tuesdays at 2 PM in the Catawissa Branch Library. 
Please register online here
or by calling the library at 570-387-8782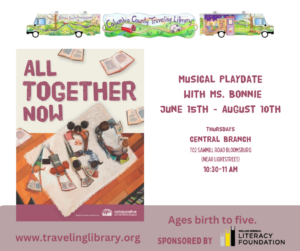 Join Ms. Bonnie every Thursday for a musical playdate at the Central Branch. Children and their caregivers will enjoy a story and learn about music while exploring the library's new collection of early learning tools (TOYS)!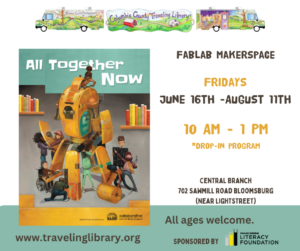 Every Friday this summer families with school age children are encouraged to drop-in at the Central Branch Library anytime between 10 AM and 1 PM to tap into their creative side using the resources in the library's makerspace cart! Project suggestions will be provided, but participants are encourage to explore freely! All creations will be placed on display in the library!
NEW THIS YEAR!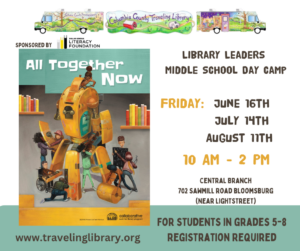 Library Leaders Middle School Day Camps
Parents and caregivers will have the opportunity to drop off their middle school student(s) at the Central Branch on Sawmill Road for a day full of exciting activities crafted around this summer's theme, "All Together Now." Together we will put the unity in community!
Middle schoolers will experience fresh titles from the library's ever growing middle grade collection, try their hand at STEAM challenges, learn new skills, meet new friends and make new connections! 
For children in grades 5-8 for the 2023 school year. 
Registration is required and lunch will be provided.
Please register online here
or by calling 570-387-8782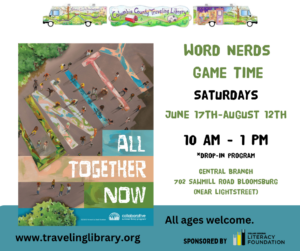 Join Mr. Ammon every Saturday this summer for fun word games. This drop-in program is for the whole family!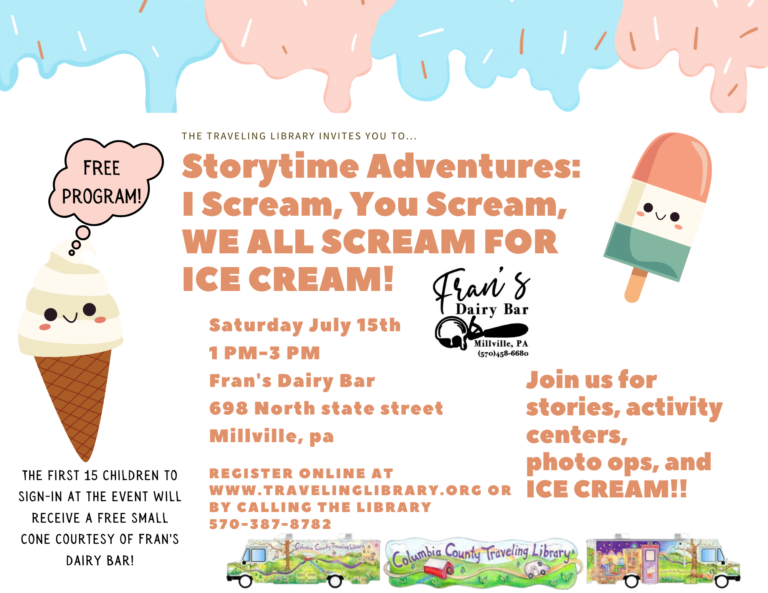 Adults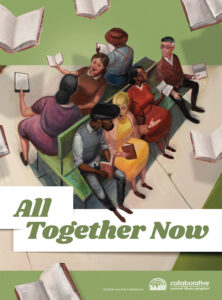 We have something for everyone! Adults can join in on the fun this summer by logging their reading for a chance to win one of eight $25 gift certificates to our library book sale in October 2023!
Register today and bookmark this site to make check in much easier all summer long!
https://columbiacounty.readsquared.com/

Please register now so we can be in touch with you about our events, prizes, and other fun!
If you registered before, please log in to update your information. 
For help with registration, just visit the library, call 570-387-8782, or email amanda@cctlibrary.org.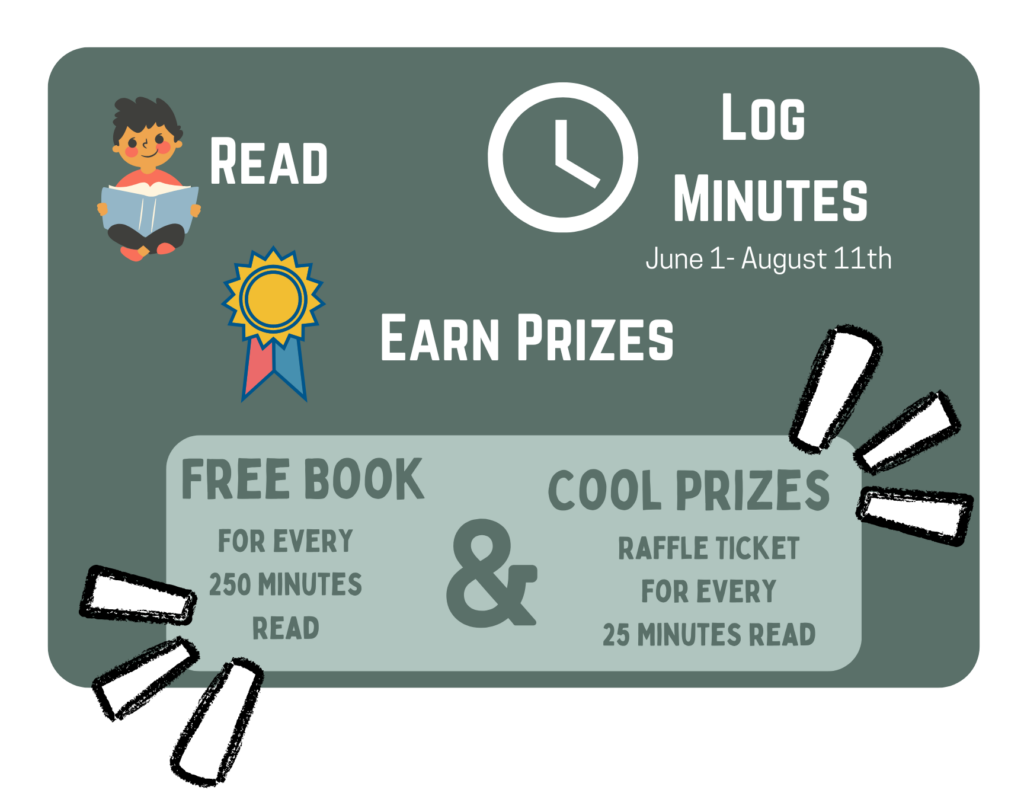 Prefer to unplug and log offline? Visit the library to pick up a paper log!