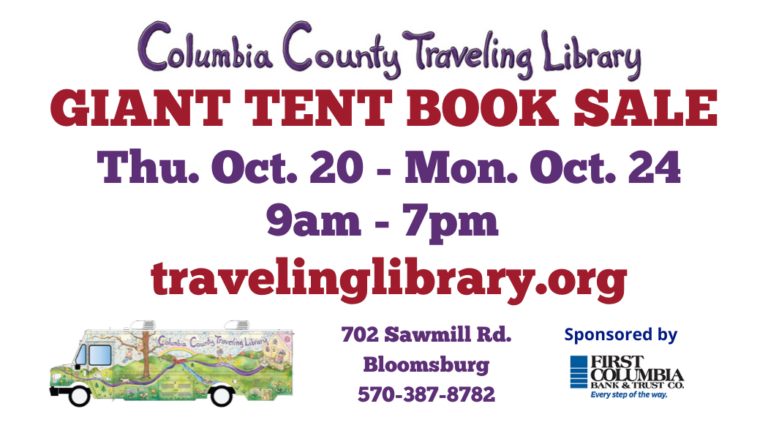 15,000-20,000 books on sale for all ages!
All proceeds help us put new books on the bookmobile for our community of readers.
LOCATION
Under tents in the County Library parking lot at:
702 Sawmill Road, Bloomsburg
the Columbia County Agricultural and Human Services Building  near Lightstreet and the I-80 Interchange by Denny's — directions posted below.
The tents are wheelchair accessible and restrooms are available.
DATES AND TIMES
The sale is over, but there are FREE clearance books available on Tuesday, October 25 from 9am – 7pm! Free will donations are gratefully accepted.
PRICES
Hardcover books – $2;
Large Softcover books – $1;
Small paperbacks – $.50;
Children's Books – $1
Like-New and Vintage books are $1 extra.
Adult clearance books are half-price. All clearance children's books are $.25.
Cash, check, credit/debit card, and Google/Samsung/Apple Pay accepted.
Unsold clearance books will be FREE on Tue., Oct. 25 from 9am – 7pm. (Donations accepted.)
BRING BOOKS TO DONATE!
These books have been donated by community members. We take donated books at the County Library all through the year. You may also bring books to donate when you come for the sale!
VOLUNTEERS NEEDED
We depend on community members to pitch in. Thanks for whatever you can do for a couple of hours or more!
Click here to sign up to move book boxes and help set up tents
Click here to sign up to set up plastic shelves, unpack books, organize them on shelves, and repack them
Click here to sign up to assist customers and organize books during the sale
DIRECTIONS
Directions from Bloomsburg:
Go out Lightstreet Rd. past Bloomsburg University and Denny's. After the I-80 Interchange, take a right at the first light onto Sawmill Rd. and go one mile.
Directions from Benton:
Follow Route 487 South through Orangeville toward Bloomsburg. After the light at Short Stop Mini Mart, look for the next light and turn left onto Sawmill Rd and go one mile.
Directions from Mifflinville:
Take Route 11 toward Bloomsburg. Soon after the Enterprise Rent-A-Car sign, make a right at the light on to Shaffer Road. Take Shaffer Road about 2 miles. Turn left onto Sawmill Rd. at the stop sign after you go under I-80 and go about a quarter mile and turn left at 702. Signs are posted at the last two turns.
We are right off I-80:
If coming from the east take Exit 236A (Lightstreet) for 487N and turn right at the next light in about 500ft. If coming from the West, go past the Buckhorn exit and take Exit 236 (Bloomsburg/Lightstreet) then turn right on 487N and turn right at the light just after the overpass onto Sawmill Road.